Exhibitions
Identity & Inspiration
Awards, Books, Activities
Jewish Life and Folklore
General Scenes
Biblical Themes
Stained Glass Windows
Historical Photos
Photos of the Artist
Galleries
Jewish Life and Folklore
General Scenes
Biblical Themes
Stained Glass Windows
Moses and Isaiah: The stained glass windows of these two prophets are in Temple Sholem, 3480 Lake Shore Drive in Chicago. Moses is depicted as a lawgiver, surrounded by rays of light, pointing to the Ten Commandments. As Bekker once said of Michaelangelo's Moses, "That is not our Moshe Rabbeinu," referring to the horns, as Moses was then portrayed.
Isaiah is depicted with a saintly face saying the words: "Holy, Holy, Holy" from the prophecy in the sixth chapter of Isaiah.
Rabbi Louis Binstock, the Rabbi of Temple Sholem, wrote in 1951: "I wish to express my great joy and pride in your window of Moses, recently installed in our Temple. Everyone who has seen it has expressed his profound admiration for your creative artistic genius. We are all delighted not only with the basic conception but also with the general plan of arrangement, perspective and coloring. We look forward eagerly to the remaining window which you have been delegated to fashion."
Redemption or Messianic Time: The window is in Anshei Emet Synagogue on Pine Grove Avenue in Chicago. The window, which is smaller than those in Temple Shalom, is in three sections:
On the left is a favorite theme of Bekker which he has also expressed in dry-point etching and in tempera: "And a little child shall lead them," Isaiah 11:6.
In the central section one sees Bat-Zion, the Daughter of Zion, in the image of a woman leading the Jewish nation and holding the flag of Israel. The sentence from Numbers 10:35: "Arise, O Lord, and let Thy enemies be scattered."
The third section depicts a man beating a sword into a plowshare, as is written in Isaiah 2:4: "And they shall beat their swords into plowshares."
The Ten Commandment Windows: These ten medium size windows are in the The New Beth Abraham Synagogue in Sugar Camp, Dayton, Ohio. Each window depicts one of the Ten Commandments in both symbolic and representational style, accompanied by Hebrew text from Exodus 2:2.
Statues
Bekker made only one sculpture. A black plaster of Paris of a pregnant woman and her two children.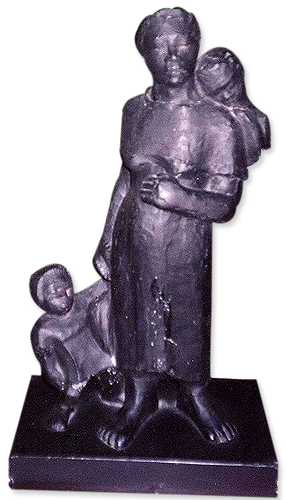 | | |
| --- | --- |
| Designed by graphix2go.faith@gmail.com | © Dvora Aviezer and Alex Bekker |